Reclaim Your Vitality


More Energy NOW




A Long and Healthy Life LATER
1:1 Coaching and More
BOOM: Intentional Living and Longevity is an immersive experience that includes a personalized wellness and fitness plan developed by fitness and healthy aging expert Cathy Richards, 12 weeks of one-on-one coaching, live group Q&A in a supportive community, an online course with videos lessons, worksheets, recorded workouts, and much more.
For Women Who are READY
For the woman who has put it off long enough - hormones, sleep issues, stress snacking, aching joints, or clothes that don't fit. You sense the urgency to change patterns that are not serving you before even more years go by. For the woman who wants to take things up a notch. You have solid habits but crave adventure, new challenges, and continual learning.
For More Vitality
You know you were designed for more. More vitality, more intentionality, more focus on what matters most and that starts with your own health. Perhaps the wake up call of a milestone birthday, a medical diagnosis, or a recent empty-nest. As a high-achieving woman, you strive to bring your best self to all you do. You know that your choices today impact your long and healthy life! 
Hello! If you're at a time in your life where you're tired, or frustrated, or just want to feel better consistently, l feel your pain. I've been there, I know what you are going through, and I'm here to help.
You may want to shed excess fat, feel fit, and have more pep in your step. You know that these changes require energy and even grit. You also know that longevity - living a long and healthy life - is more easily realized the earlier you start - meaning NOW. The good news is that it's never too early or too late to start! Our amazing bodies and minds are capable of responding to habit changes at any age!  
Read on to learn about:
BOOM: Intentional Living and Longevity
This is a premium coaching experience that is not for the curious, but for the serious. This is for you if:
- you know it's time (probably past time) to take care of YOU.

- If you know it's time to stop the on-again and off-again madness and accept the personalized support and accountability you deserve to create a realistic, long term plan to feel good and cement the habits that will keep you there. 
I'm Cathy Richards, an exercise physiologist, author, professional speaker and wellness coach along with being a wife, a mother/stepmother to six young adult children, and daughter of an amazing mother who is living with Alzheimer's disease. I'm also a hiking enthusiast, aspiring bikini level bodybuilder, and aspiring yogi trickster (currently, I've only mastered headstands and crow).
I've juggled kids, elder caregiving, weight fluctuations, joint pain and inflammation, major life transitions, and more. I know how frustrating it can be to yearn for MORE out of life and out of yourself, yet feel like you're spinning your wheels. Watching children age up and parents decline sparks an urgency to show up in the world like no other. Who else is going to do this for me? For you? I created this program just for you based on the success strategies that have worked for me personally and the clients I've worked with. 
Intentional Living. Longevity.
BOOM! An explosive feeling that speaks to you. 
BOOM! A wake-up call that you can't ignore.
BOOM. Done.
Book a Free Call
 Let's chat and find out if this is the right program for you. I'll look forward to speaking with you!
Chat with Cathy
When you enroll in Intentional Living and Longevity Premium Coaching Experience, you'll receive: 
 

An immersive experience that will help you gain energy, build grit, and transform your life! We'll be addressing both the mental and physical components of gaining energy. Beating burnout. Building resilience. Making intentional choices as you realize we have this one life to live and no time to waste. Longevity is living longer and filling those years with good health, mobility, a meaningful quality of life. The role of eating, exercise, sleep, stress management, and relationships - all personalized for you - but so much more. Grit is needed to achieve and sustain anything meaningful. Passion plus perseverance. It can be a tricky or tall order to unlock both at the same time, so let's tackle it together! What is it that you really want? I am a catalyst at heart with a passion for Inspiring Vitality and helping my clients transform their lives. Specifically, you are saying yes to: 
 A Customized Intentional Living and Longevity Plan and Tracker

based on your unique lifestyle goals and challenges. We'll address fitness, nutrition, stress management, sleep, personal habits, career, and lifestyle transitions. This is not a static snap shot but a weekly work in progress. Let's unfold it together.

One-on-one coaching and mentorship for 12 weeks

We will utilize weekly check ins using a combination of video chats, online submissions, private messaging, and personalized recorded videos to review progress, challenges, and goal setting week to week. 

 Long term group coaching, mindset sessions, pop-up workouts, and office hours for Q&A

Once you enroll, enjoy weekly access to me and a community you'll love! The best part is that this community is yours to enjoy both during and beyond your 12 weeks of one-on-one support. You are invited to enjoy camaraderie, support, relationships, and connection with no expiration date! 

BOOM: Fat Loss and Forever Fit Online Course (lifetime access)

with all the components listed below in that section

 Digital Copy of Cathy's Amazon Best-Seller: BOOM: 6 Steps to a Longer, Healthier Life

 Exclusive graduation opportunities

after your 12 weeks of one-on-one coaching. There is an option to continue the check-in component, additional follow-up, and continued access to all other components of the program!
Through this program, y
ou will have…
A mindset that has been transformed to handle all the healthy habit roadblocks that life throws at you
You will have the keys to motivation and consistency that lead to long-term lifestyle change. Why keep trying unrealistic, overly restrictive plans that depend on perfect conditions when life is just not like that?! You will have the skills to adapt and adjust your routine as life changes, getting healthier all the while. I know it and you know it – success begins with mindset, yes? I got you.
A metabolism makeover and healthy eating road map that will lead to (and keep you at) your goal weight 
Some of us feel like we have the metabolism of a snail and eating LESS is not the answer, even if you want to lose weight. An overly-restrictive diet plan is not only doomed to fail because it's impossible to stick to, it can make your metabolism problem worse! You may have tried them all, so I've gotta ask you, are you ready to acknowledge that diets don't work? Instead, with this program, you will be armed with a clear understanding of how your metabolism works, the role of hormones and food brain chemicals, and how to fuel your body for high energy while shedding unwanted fat. You'll have the no-nonsense facts about what really matters so you can enjoy an eating style that will work for you with no end in sight.
A customized, sustainable home exercise plan that you can stick to long term
Your time available and motivation level for exercise will never be constant! The biggest obstacle in sticking to any exercise plan is all-or-none rigidity. BOOM will provide you with four levels to choose from for a home exercise plan that delivers fat loss, muscle toning, and energy! Results come with consistency and the magic of BOOM is the strategy of shifting up and down the levels as life changes so that your HABIT will be rock solid. Results will follow! How would that feel? 
More energy to tackle your busy life
You know that exercise will give you energy but you don't have the energy to exercise! That's a problem, isn't it? No more! This program will give you the tools and progression of eating and exercise changes that will give you all the energy you ever wanted for your busy life.
A new confidence that you are DOING IT with no end in sight!
It's easy to get down on yourself when you think of all the failed attempts you might have had in the past to lose weight or get in shape. Something always gets in the way and you get off track. The good news is that you haven't missed your chance! Change is always possible. We learn and we grow. You can stick to a plan and you will feel great about it. Truth be told, you'll feel on top of the world once you get this monkey off your back. Soon you can say to yourself, "I'm doing it!" and know in your heart that there will be no rebound effect and it's now simply part of how you live your life! 
"I used to be very fit and then over the years, my habits changed, my weight crept up, I felt tired, unmotivated and overweight. I needed help getting back on track! When we first started, I needed inspiration and accountability. As we have progressed, I have come to also appreciate her expertise in helping me workout in a way that is perfect for me. I highly recommend Cathy for anyone who needs both to be challenged and coached to build a lifestyle of wellness and strength."
Cyndy P.
Cathy, you are a powerhouse of hope, inspiration, and positivity! I began working with you mostly for my mental wellness but I've also lost over 25 pounds without feelings of sacrifice! I'm strong and pain free from a long ago back injury and at 57, I feel like I'm 45! Thank you, Cathy, for caring and helping lift me up! I couldn't have done it without you!  
- Rhonda M.
Being fit and healthy is very important to me. I have a demanding job and working with Cathy has been a valuable part of my overall wellness plan. I look forward to our workouts as a stress reliever and I've gotten stronger and more flexible. Exercising regularly is a habit for me now that I won't ever stop!
- Merrita W.
When you enroll in Intentional Living and Longevity Premium Coaching, you'll get immediate access to: 
BOOM: Fat Loss and Forever Fit Online Course



6 Modules with 20 total lessons

All the success strategies you need in the important areas of mindset, eating, and exercising for FOREVER fat loss and fitness success!

30 Daily Pep Talk Videos

This is part of the IMMERSION. I will be there with you by video EVERY DAY for 30 days! Watch daily, spread them out, or repeat! You'll start every day off with a 30-second message from me that will focus you in on what needs to happen to move closer to success. It's my way of taking you by the hand, letting you know I care and supporting you in this immersion period of life-changing habits!

Four Weeks of Progressive Workout Plans

You'll have follow-along videos and instructions for on-your-own workouts to choose from for all four levels. 

Resource Library and Success Tool Kit

PDF Downloads, checklists, cheat sheets, videos, and so much more will be loaded into the Resource Library corresponding to each module! My two-part metabolism makeover tool can ALONE lead to success! 
My Three-Part Movement Passions: Wanna Learn More?
Strength Training
No better way to improve your appearance and your overall health, and secure your strength and independence as you age! 
Hiking
There is simply no other way I'd rather spend a morning than moving my body in nature. Fresh air plus movement is MAGIC!
Yoga 
So many lessons I've learned in this practice! Slowing down and challenging myself. My body has never felt better.
Picture it now...
Tiki bar setting and being near water of any kind are a few more of my favorite things. Once you're part of this community, invitations to BOOM Intentional Living and Longevity retreats could be in your future!
Book a Free Call
 Let's chat and find out if this is the right program for you. I'll look forward to speaking with you!
Chat with Cathy
I lost over 40 pounds while working with Cathy! She helped me take a close look at my overall habits, set realistic goals, and create an eating and exercise plan that worked for me. Week by week, she taught me so much, held me accountable, and the results just followed!
Ashley F.
P.S. I'm still going!
Ashley
(40 pounds lighter and still going!)
Meet Shelly: What a Difference a Year Makes!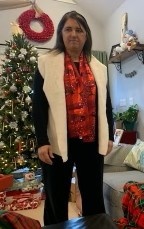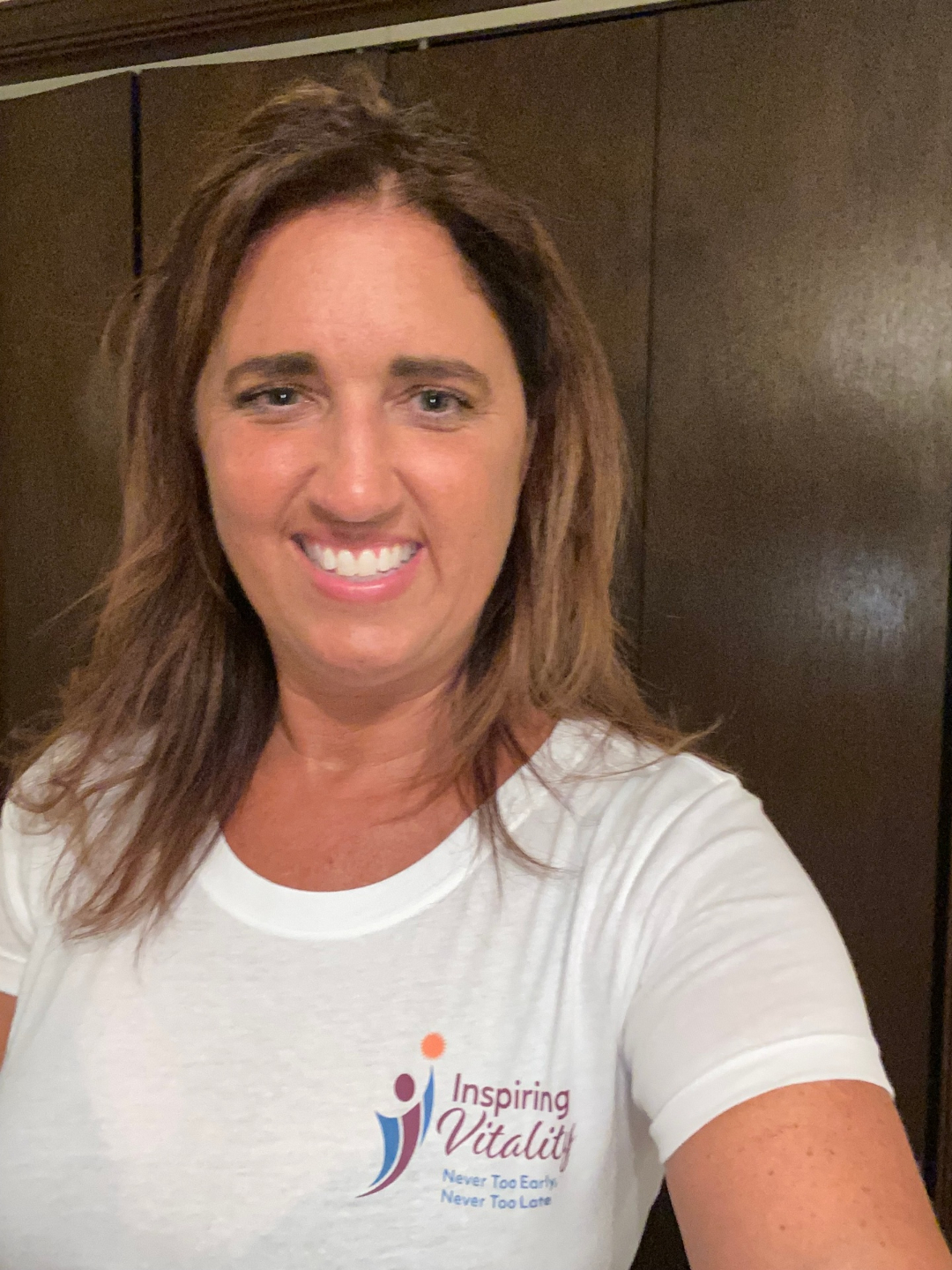 "Tears filled my eyes while looking through pictures last Christmas, not because of the joyous memories they contained but because of frustration and discouragement over how I looked in them. While I realized had gained weight, for some reason those pictures were a turning point for me. I didn't feel good about myself at all, and looking back I can see that it also affected me mentally. I had no self-confidence, and no energy for long-term. I knew there had to be a change.
So, 2021 started with gradual change, more exercise, strength training and better food choices. It was a slow journey with frustratingly little obvious progress, but I did start to see results.
Eventually results began to snowball, and in more areas of my life; clothes were getting looser, I started feeling stronger, and having more confidence.
About nine months into my journey, I was really motivated to keep going since I was seeing results. I was actually getting rid of clothes because they were too big!
The key for me was strength training, persistence, and accountability. Even when there was no time for cardio I regularly did strength training workouts. Even when I didn't feel like it, I tried to stick with it as much as possible. The accountability of knowing Cathy knew I was at a live workout and having an awesome accountability partner also helped me stay focused on meeting my goals.
This is truly a journey, and everyone needs support. So many times, we know the "right" things to do but for one reason or another don't end up doing them. Having someone help me in my fitness journey was the key!"
"I've tried many different exercise routines through the years but never appreciated the huge value of weight training until I worked with Cathy. She understood exactly what I needed and created a personalized, home workout routine that has really worked and one I can stick to! I do it at home in under 30 minutes which is exactly what I wanted! I'm stronger than ever, love the changes it has made to my body, but most importantly, I'm delighted with the improvements to my health and well being!"
Anne Marie M.
I feel so much better. I have energy, less aches and pains, and I am just plain healthier. Cathy has been a great resource, motivator, and friend. I am most thankful for whatever happened during that first meeting with Cathy when a stifled inspiration was thrust into light. It was a pivotal moment. In a word, "WOW!"
Stephanie S.
I couldn't ask for a better coach for me. Cathy has been inspiring, supportive and a full-blown cheerleader for me. I had a time where I was just hanging out at the same weight and Cathy kicked me in the butt and did some heavy-duty problem solving with me to get me back on track and back on my losing streak!!
- Louise S.
I can't wait for you to join

BOOM: Intentional Living and Longevity
I created this premium experience because I want to serve you – the woman who doesn't want to let another day go by without changing the trajectory of her quality of life and health. The frustration can be overwhelming when you think you've tried everything but haven't yet unlocked the combination of mindset and habit shifts that will deliver lasting change. This, my friend, is your last stop. Together, we will get to the root of what's stopping you and propel you to a place of making intentional choices day in and day out that lead to incredible vitality!
I am a huge advocate of coaching and personal development in all disciplines and have personally spent tens of thousands of dollars on coaching programs myself, which is a testament to how strongly I believe in the power of support and accountability. I utilized coaches for business, for writing my book, for becoming a better speaker, and even for addressing my unique fitness and nutrition needs, knowing that I could benefit from "fresh eyes". I know that my unique model of coaching and mentorship can be a game changer that will lead to both short term success and the long term goals of lifelong fitness and peace of mind that you are aging as healthfully as possible. 
I wrote BOOM: 6 Steps to a Longer, Healthier Life after working in corporate wellness followed by senior wellness. The messages of BOOM resonate as lessons from my work with seniors brought back to young and midlife women to change the path of our aging and that of our families. What tone and example are we setting in our households? What legacy are we leaving? Is it one of health? Of intentionality? Of prioritizing our own health and being a positive role model to those around us? This is your chance to make a difference. 
BOOM: Intentional Living and Longevity brings the messages from the BOOM book to life. Most of us learn better through immersion, personal contact, and practice. One-on-one mentorship and coaching, camaraderie with others on the same path, provide an unparalleled opportunity for change and growth. Even the online and recorded portions allow you to hear my voice, watch my demonstrations, interact with me personally, and change your life!
In addition to my personal experience, I also have professional credentials including a Master's Degree in Exercise Physiology, certifications from the American College of Sports Medicine, the Functional Aging Institute, and other nationally recognized organizations. Through my business, Inspiring Vitality, I focus on the motivational and mindset aspects of health habits that leads to a better quality of life now and a longer, healthier life later. 
I can't wait to take this journey with you! Schedule a call with me today so I can hear your story and welcome you to BOOM: Intentional Living and Longevity!
Book a Free Call
You've been struggling on your own. Maybe it's time for a new approach. You've been bursting for MORE for a while. Maybe it's time for action. Let's chat and find out if this is the right program for you. I'll look forward to speaking with you!
Chat with Cathy